Scribbling notes during the meeting has long been the norm of business.
The need to record, transcribe, and archive conference calls are important; however, these tasks are time-consuming and hinder the natural flow of conversation.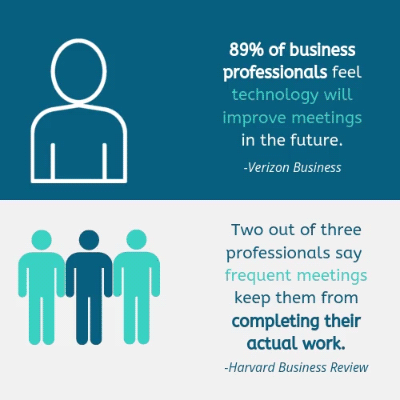 Additionally, many employees feel that frequent meetings prevent them from getting their work done overall.
As technology continues to grow, some tools make it possible to capture and transcribe information accurately—without disrupting the meeting quickly.
In fact, 89% of business professionals have shared that they feel using technology in future meetings will improve their overall productivity.
The COVID-19 pandemic has shifted many office meetings to virtual ones. Thus, finding the right call transcription tool for your team's meetings is essential for efficient meetings and a productive team.
Let's take a look at five different options for meeting transcription software.
5 Call Transcription Tools to Record & Transcribe Meetings
Threads
Threads will quickly pick up all VoIP calls made from your network and transcribe them, making all of your calls fully searchable. Also, Threads allows you to record calls from your existing system without reconfiguring the current setup, so you don't have to bother changing anything.
This meeting transcription software not only includes real-time, accurate transcription but a shared email inbox feature. This allows team members to have access to call recordings and transcriptions in the context of all your communications, increasing productivity.
Overall, Threads offers clients several benefits to streamlining your meetings, including the following: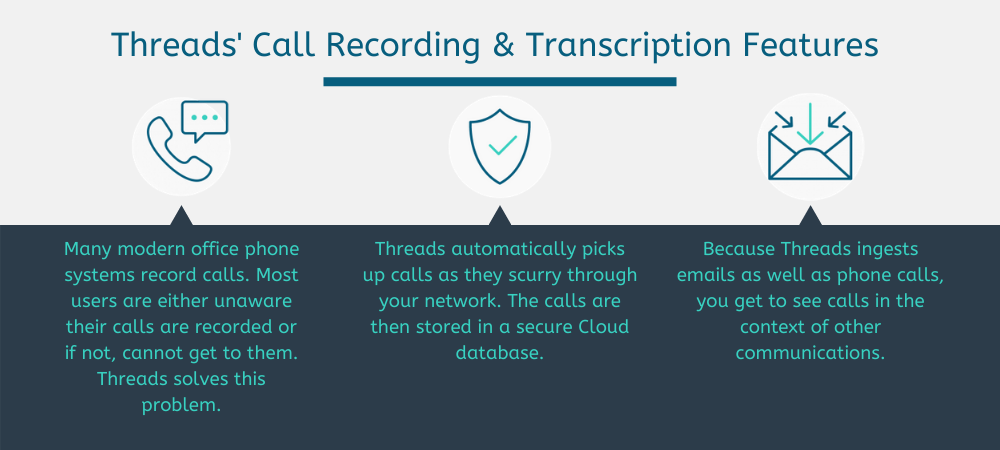 All the messages of an organization will be stored securely and privately in the cloud, and you can effortlessly search through them. You can also group calls and emails so you can quickly browse through them and extract information.
With the work-from-home shift that came with the pandemic, virtual meetings and phone calls have become the norm. You'll never have to worry about missing important information during a vacation with transcription services from Threads. Threads ingests phone calls for transcription using ASR while remaining transparent and independent of the telephone system in use.
What are the top features of Threads?
Full context
Secure cloud database
CRM integration
Unprecedented search capabilities
How much does Threads cost? A Threads subscription starts at $30 per month for 5GB worth of storage. It has storage-based pricing, so depending on your needs the price will increase accordingly.
Is there a Threads free trial? Yes, Threads offers a 14-day free trial.
For more information, visit: threads.cloud
Otter
Using Otter makes it easy to search through voice conversations by automatically recording and transcribing calls. Otter is intelligent enough to understand and capture conversations that happen between multiple people as well.
It allows recording and reviewing the transcribed text in real-time. You can access the conversations from any device and search through them quickly. You also have the facility to share voice notes with others and collaborate, making Otter quite useful for teams.
What are the top features of Otter?
Real-time transcription
Automatic meeting summary
Workflow integration
How much does Otter cost? Otter costs $20 per month per user.
Is there an Otter free trial? Yes, Otter offers a 10-day free trial.
For more information, visit: otter.ai
TranscribeMe
If you need a human touch along with the automatic transcription, then TranscribeMe's hybrid model of speech recognition technology plus dynamic quality assurance by real professional transcribers may be the best choice for you.
A combination of voice recognition software that converts speech to text, automated quality checks, weekly spot checks, and peer reviews by professionals ensures the quality of the transcribed text. If errors in the transcription are going to be costly, then TranscribeMe may be worth checking out.
What are the top features of TranscribeMe?
Manual transcribers
Speaker IDs
Timestamps
How much does TranscribeMe cost? TranscribeMe's services start at $2 per minute for the Verbatim Plan.
Is there a TranscribeMe free trial? No
For more information, visit: transribeme.com
Trint
Trint is an AI-based toolkit for transcribing, searching, and sharing media content. One advantage of Trint is that it can transcribe both audio and video files. It has a sophisticated editor that glues the transcribed text right next to the spot in the video or audio file, so you can easily verify or correct the text if required.
Of course, Trint makes the audio and video files searchable as well. Drop your audio or video recording into Trint's web-based interface, and you're done.
What are the top features of Trint?
Searchable files
Real-time transcription
Vocab Builder feature
How much does Trint cost? For the Pro Team Plan, it costs $68 per month per user.
Is there a Trint free trial? Yes
For more information, visit: trint.com
Zoom
If most of your business meetings are online, Zoom is a great choice not only to record the conference call but also to transcribe it.
Zoom has an audio transcript option that automatically transcribes the audio of a business meeting or conference call that you record in the cloud. The transcript appears as a separate file in the list of recorded sessions. Download the file to open it in MS Word or other text editors.
What are the top features of Zoom?
Video conferencing
Advanced cloud recording
Real-time transcription
How much does Zoom cost? The Business Plan costs $199.90 per year per license.
Is there a Zoom free trial? Yes, you can transcribe meetings on a free plan.
For more information, visit: zoom.us
Here is a handy comparison table you can use to evaluate which meeting transcription software is right for you.
| Tool Name | Meetings Stored in Cloud | Transcribes in Real-Time | Identifies Speakers | Price |
| --- | --- | --- | --- | --- |
| Threads | ✅ | ✅ | ✅ | Starting at $30 per month (5 GB Plan) |
| Otter | ✅ | ✅ | ✅ | $20 per month/per user (Business Plan) |
| TranscribeMe | 🆇 | 🆇 | ✅ | Starting at $2 per minute (Verbatim Plan) |
| Trint | ✅ | ✅ | ✅ | $68 per month/per user (Pro Team Plan) |
| Zoom | 🆇 | ✅ | ✅ | $199.90 per year/per license (Business Plan) |
When To Use Meeting Transcription Software
Why use a meeting transcription software? Meeting transcription software can streamline the process of taking notes during meetings. Additionally, transcribing meetings can save employees time in their days by allowing them to review the notes when it's convenient.
When are effective times to use a meeting transcription software? There are plenty of situations where recording and transcribing meetings can be beneficial. Let's go over a few different scenarios when using this software would be useful.
Meetings With Missing Team Members
There will inevitably be meetings still occurring when employees are out of the office. These meetings can be recorded and transcribed for those unable to attend the live meeting. This is an easier solution than taking meticulous notes for anyone who isn't in attendance to review.
Sales Meetings
Often, meeting transcription software is used to transcribe dialogue during a sales meeting. Unfortunately, salespeople don't always have time to transcribe points brought up in customer meetings. Taking notes during a sales call can also come off as rude. To avoid this, use a meeting transcription software to dictate notes from the meeting to return to later.
Interviews With Customers
Companies that include interviews with customers or testimonials on their websites can use transcription software to make the process simple. Instead of hand-typing their answers during or after the interview, let AI do it for you. Save time and energy with this method.
Internal Meetings
Internal meetings with team members are often filled with valuable information. Documenting meetings, especially for legal implications, can be important to certain businesses. Using a meeting transcription software allows the meeting notes to be stored for accountability and compliance.
These are just a few times when transcribing meetings can be an effective way to manage a business.
Ultimately, picking the best meeting transcription software for your business will be dependent on your specific needs. We hope this guide will help you to choose the right software for your business.
Looking for a way to streamline your meetings?
Contact us to learn about the Threads intelligent message hub, with call transcription, shared inbox features, and more!