The Power of Email Transparency: Building Trust and Transparency with Threads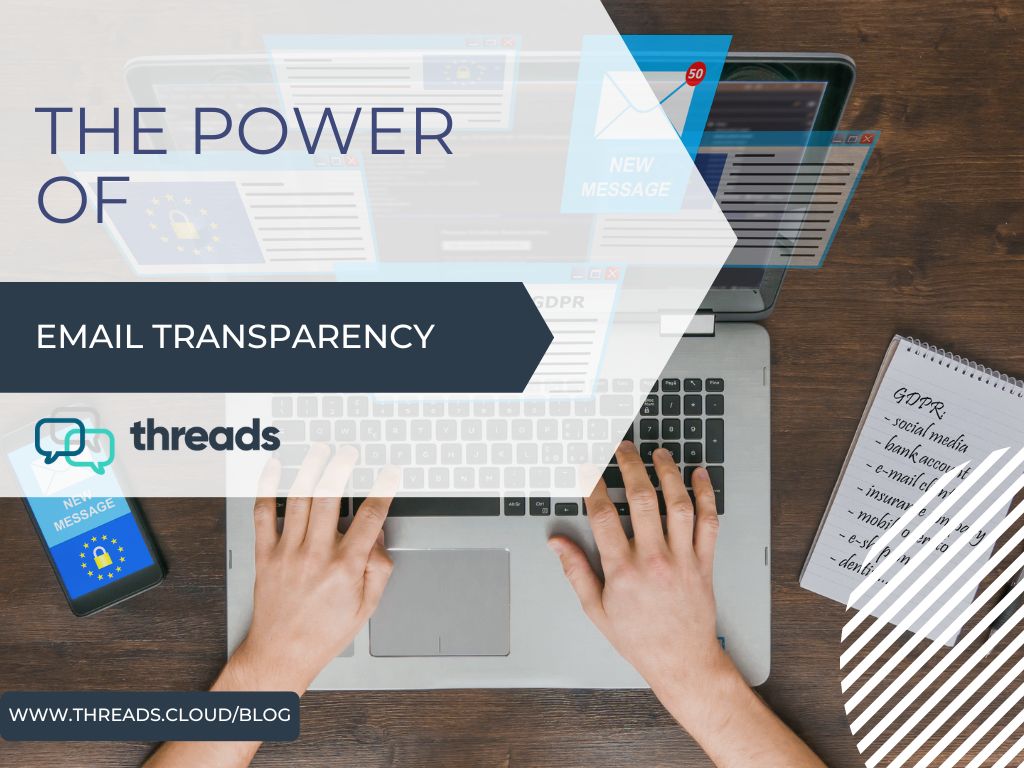 In the business world, communication is key. From interactions with clients to internal team discussions, the flow of information plays a pivotal role in the success of any small business. But what if we told you that taking a transparent approach to email communication could revolutionise your operations? At Threads, we believe in the power of email transparency, and in this blog post, we'll explain why sharing email communications can be a game-changer for your small business.
Why Email Transparency Matters
Before we delve into the benefits, let's understand why email transparency matters:
Fosters Trust: Transparency in your email communications fosters trust, both internally and externally. It shows your commitment to openness and honesty in all your interactions.
Streamlines Collaboration: Shared email communications facilitate collaboration among team members. Everyone is on the same page, leading to more efficient decision-making and problem-solving.
Enhances Accountability: When you share emails, individuals are more likely to take ownership of their actions and commitments, knowing that others can see their communication.
Customer-Centric Approach: Transparency with clients can strengthen your client relationships. It shows that you value their input and are willing to share information openly.
Why Customers Shouldn't Worry About Confidentiality
Now, you might be thinking, "But what about confidentiality?" It's a valid concern, and at Threads, we prioritise the security of your data. Here's why your customers shouldn't worry:
Secure Platform: Threads.cloud utilises state-of-the-art security measures to protect your email data. Our platform is designed with security features to keep your information safe.
User Control: You have control over what email communications are shared and with whom. You can choose to share only what's necessary while keeping sensitive information private.
Compliance-Driven: Threads is committed to maintaining the highest standards of data privacy.
The Threads Advantage
Now that you understand the concept of email transparency and the importance of confidentiality, let's explore how Threads can help your small business:
Centralised Email Hub: Threads serves as a centralised hub for your email communications, making it easy to share and collaborate on important emails.
Selective Sharing: Choose which emails or email threads to share with specific team members or clients. Keep full control over your data.
Secure Storage: Our platform provides secure storage for your email communications, ensuring they are easily accessible while remaining confidential.
Embrace Email Transparency Today!
Ready to take your small business to the next level with email transparency? Here's how you can get started with Threads:
Sign Up: Visit our website and sign up for a Threads.cloud account.
Connect Your Email: Integrate your email accounts with Threads.cloud to centralise your email communications.
Selective Sharing: Choose which emails to share and with whom, ensuring you maintain control over confidentiality.
Threads.cloud is committed to helping small businesses like yours build trust, enhance collaboration, and streamline email communications. Join us on the journey to a more transparent and efficient business operation.
Start Your Journey to Email Transparency
Experience the benefits of email transparency and transform your small business operations.