As you know, your team of employees all have their own email inboxes that they use to communicate with each of their clients. Sometimes projects will come up where the communication threads with multiple people need to be forwarded so everyone can understand what is going on. This task can get annoying and confusing if there are multiple projects and team members that need this information. A simple solution: use a shared inbox. At first, this may sound daunting, but centralizing your businesses emails can elevate a lot of stress. Here are some benefits of using a shared inbox.
Two of the biggest factors that come with using a shared inbox are visibility and transparency. Since all team members can see what you are saying you are making the information available to everyone. This allows for visibility when it comes to team members wondering what you are doing/saying. Also, you have the opportunity to join a new team and research exactly what has been said in each thread of communication. Having access to all conversations makes the onboarding process seamless yet informative. When you share your messages with your team you share responsibility. As a result, this leads to better collaboration within your company and quicker more efficient customer service.
When thinking about using a shared inbox you're probably wondering how does one organize such a thing. There are web-based tools like Threads that can make transitioning to a shared inbox seamless. Threads ingests your emails from the parent message server, so you may use whatever mail client software you choose like Outlook, Gmail, or even Apple Mail. Your digital messages will be stored privately and securely in one Cloud database that you can search via one simple screen. You're probably wondering what happens to privacy when you use a shared inbox? Threads has an option to keep private emails and calls confidential while only sharing what you want to.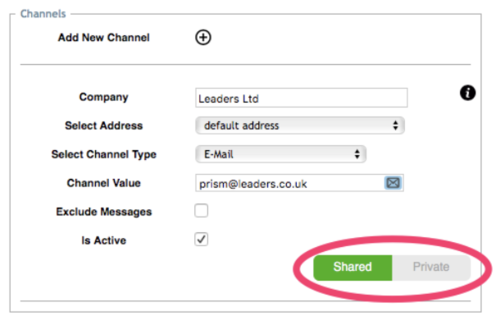 Here are the two different ways that you can mark whether you want a contact to be shared or private within the Threads platform.
Another great aspect that comes with Threads is intelligent folders. These folders can automatically group emails and calls into browsable project folders, which allows communication much easier to locate than by searching for hours. For example, you might want to create a folder of emails from just one particular company or a specific contact. Threads is not just only about phone calls and emails, your inbox can be configured to capture any digital message. Who can define what emails are Spam? Threads hides unsolicited mail from view until a connection is found. This prevents deletion of incorrectly classified mails. These features can tailor your shared inbox to be exactly what you need.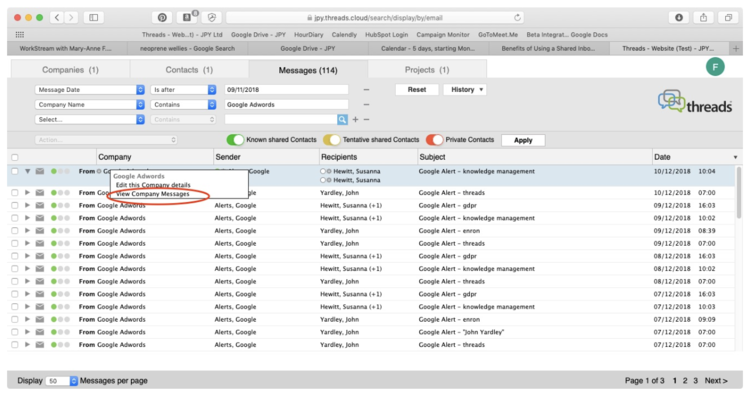 This is an example of where we asked Threads to just view all Company Messages from Google AdWords. You can now see all the messages sent and received by anyone at JPY from Google AdWords since 5/11/2018 (there have been 114). You can also see that some of those emails went to Susanna and some went to John.
When you're deciding on whether a shared inbox is right for your team, make sure you understand how easy a collaborative inbox can be. Not only will you have the ability to improve your customer service you can make your employees lives easier as well. Using a web-based tool like Threads you can have the opportunity to save time and money. So what are you waiting for? Enhance your communication, save time searching for those hidden emails, intelligently organize projects and tasks, and increase employee satisfaction.