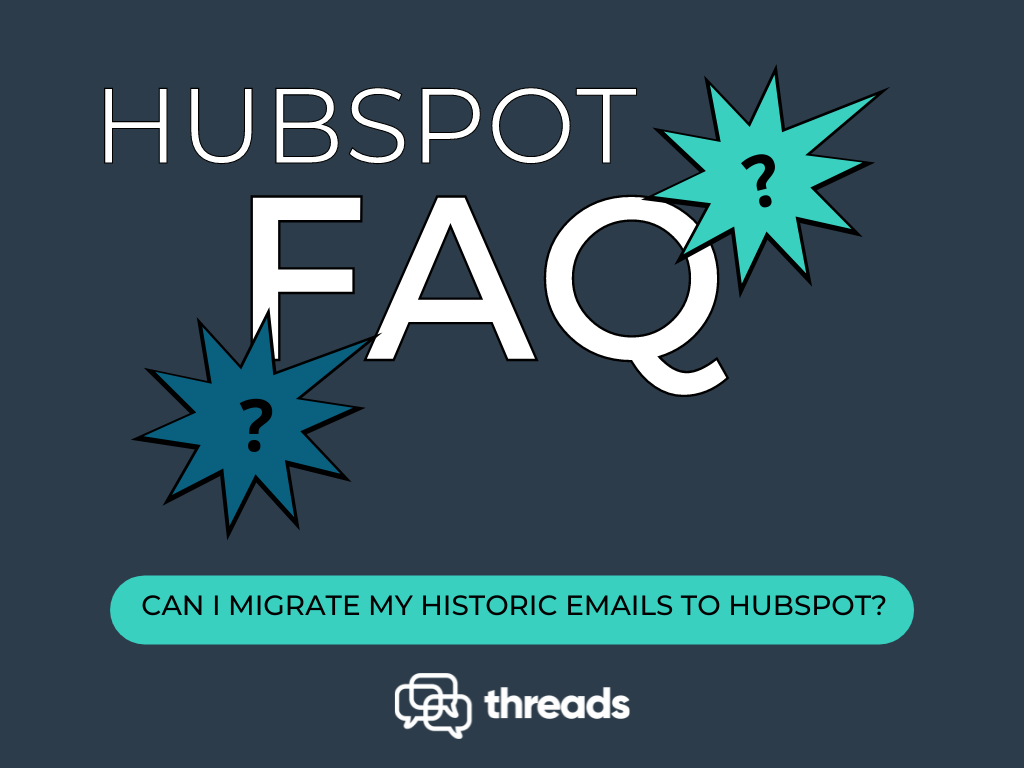 This month we investigate how new users can migrate historic emails to Hubspot. The HubSpot Community Forum is full of emails from customers who are moving from other CRM's such as Salesforce, Copper and Freshsales who don't want to lose the valuable intelligence gained from historic emails. 
Q: I'm thinking of moving from my existing CRM to HubSpot. However I would like to use HubSpot with our entire company's email history available. Is there a way to quickly import my historic emails to HubSpot?
A: Yes. There are a few ways that you can import your historic emails into HubSpot. The right solution for you will depend on the number of emails  to import. It will also depend on how much you are prepared to pay. 
Migration tool
By far the quickest and easiest way to do so is by using an migration tool such as Threads. Threads is really helpful if you have multiple email accounts or many years of data. It can even import emails from ex-employees provided that you still have access to their email account. 
If you want to bulk import emails into HubSpot then using an integration tool, such as Threads is your best bet. It works with any email client (including Gmail, Outlook and Apple Mail) and will automatically scan your email inbox and log copies of any emails sent or received with your contacts. You can also use it to log new interactions. Each interaction is added as an individual moment on your contact's timeline making it easy to search.
If you only have a small amount of data, then Threads will also import the last 30 days of your historic email for free. Alternatively, if you have more than 30 days or several users they offer a number of paid plans. Prices start at $200 for a single user for up to 2 years of data. 
Email forward feature
A cheaper but more laborious way of importing your emails into HubSpot is to use the HubSpot Forwarding Address. The email forward enables users to manually forward emails to HubSpot. It uses an email address that is unique to your HubSpot account. 
By using this method, HubSpot will associate the email with your contact record. You can find your forwarding address under Settings. This method is also helpful if the Gmail or Chrome extension is disabled.
The main disadvantage of this method is that you will not be able to forward emails in a bulk.  If  you have several years of email this can be very time consuming and error prone. 
Manual logging
If you only have a small number of emails to import then HubSpot suggests that you can manually log the email but copying and pasting emails into HubSpot. 
To do this, go to the contact record and  click "Log Activity".  Then select "Log an Email".  Enter the time and date of the email and then copy and paste the email into HubSpot.