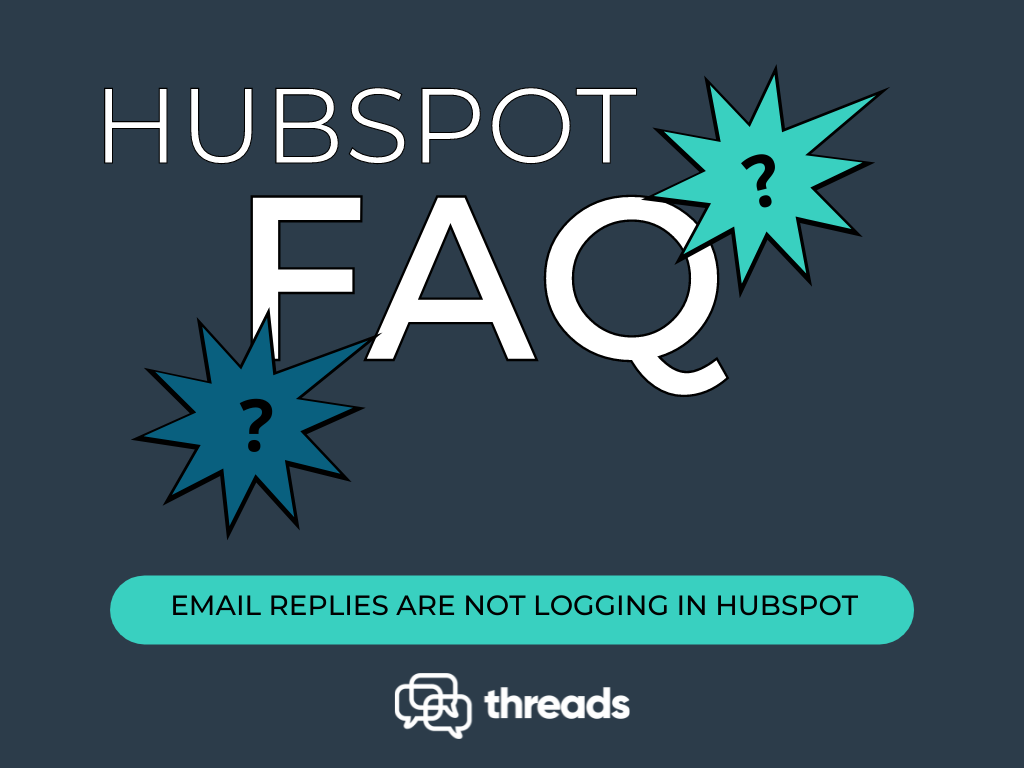 In this series of posts, we look at some commonly asked questions from the HubSpot Community Forum. In this first post we look at the problems experienced by some users when trying to log email replies within Hubspot.
Q: I have connected my email account to HubSpot and installed the relevant Hubspot sales extension and have sent an email from HubSpot to a customer. A copy of the sent email appears in HubSpot CRM. However I have now received a reply from my customer which I can see in my email inbox but I cannot see a copy in HubSpot CRM. Can you help?
A: Email replies will only log in Hubspot CRM provided that:
You have correctly connected your email account with HubSpot CRM; and

The original email was sent via HubSpot CRM

or

from your connected email account with the Log Checkbox ticked; and 

The email recipient was not an email address or domain that is listed in your '

Never Log

' list. 
With so many conditions to satisfy, it's no wonder that Hubspot users are complaining that email replies are not logged.
But don't panic!
With the Threads + HubSpot integration, if you fail to meet any of the above conditions, your sent email and replies will still be captured and your HubSpot records will be up to date.
The user has not correctly connected their email inbox with HubSpot. 
The steps required to connect your inbox to HubSpot will depend on which email client you are using. Gmail, Office 365 or IMAP are all examples of email clients.
Provided you follow the steps correctly, HubSpot will verify your connection and notify you that that it is connecting to your inbox. 
However, connecting an inbox is not always straightforward. If you include the wrong information (or HubSpot does not support your email client) then this may cause a problem.
The good news is that we can help. Threads works with any email client. This means that Threads will sync your inbox with HubSpot even if HubSpot can't! This is great news for customers that use Apple Mail which HubSpot no longer supports. 
The user forgot to check the Log Checkbox when sending the mail
If you are sending an email from your email client rather than from HubSpot CRM, you must ensure that the Log Checkbox was selected. If left unchecked, HubSpot will not log the email in the CRM and you will need to manually forward it. But that's assuming that you realised it hasn't logged in the first place! 
With Threads however, we do the work for you. Threads automatically syncs both sent and received emails with your HubSpot account.  This means Threads will log your emails even if you forget to check the box! 
The email recipient is on the 'Never Log' list
By default, HubSpot will create a new contact when you send an email from HubSpot or a connected inbox. This can result in HubSpot creating unwanted contacts  in your  CRM that you don't want or need. For example, if you email your doctor, do you really want to log that in your CRM? 
HubSpot's solution is to allow users to add specific email addresses (or domains) to a 'never log' list. But users have to manually add addresses that they want to exclude to this list.
Forgetting to add someone can result in time wasted clearing up and removing data from your CRM.  HubSpot also limits the number of email address/domains you can exclud to 100 contacts. That's not many. 
Threads takes a different approach. Rather than automatically creating new contacts or requiring users to maintain a 'Never Log' list, Threads only logs emails with contacts that you have already created in HubSpot. 
But what if you send an email to a new customer and only remember afterwards to add them as a contact in HubSpot? No problem! Threads continually operates retrospectively. This means that Threads will log all historic interactions even if you don't add the contact until later. Genius! 
How can I get Threads + HubSpot?
If you'd like to learn more about how Thread can help manage your email syncing and logging requirements in HubSpot, then sign up for a free trial today!