Want to know the difference between the different Threads plans? Or which Threads plan is right for you? Then this article is for you. We compare the different types of pricing plans and help you choose the best one for you.
Click Here to try Threads free for 14 days
Which is the best Threads Plan?
Threads currently offers 2 types of plan. They are:
Monthly Ongoing Subscription
One-Off HubSpot Migration
But how do these 2 plans differ from each other? And which package should you choose?
Monthly Ongoing Subscription
Our monthly ongoing subscriptions are suitable for users who wish to use Threads as a shared inbox or as a database to store and transcribe their call recordings. It is also suitable for HubSpot users who are unhappy with email logging functionality of HubSpot.
One-Off HubSpot Migration
Our one-off migration plans are only suitable for HubSpot users who are looking to sync or import their historic email data into HubSpot. This plan is perfect if you are new to HubSpot or if you are migrating from another CRM such as Copper or Salesforce.
Threads Plan Comparison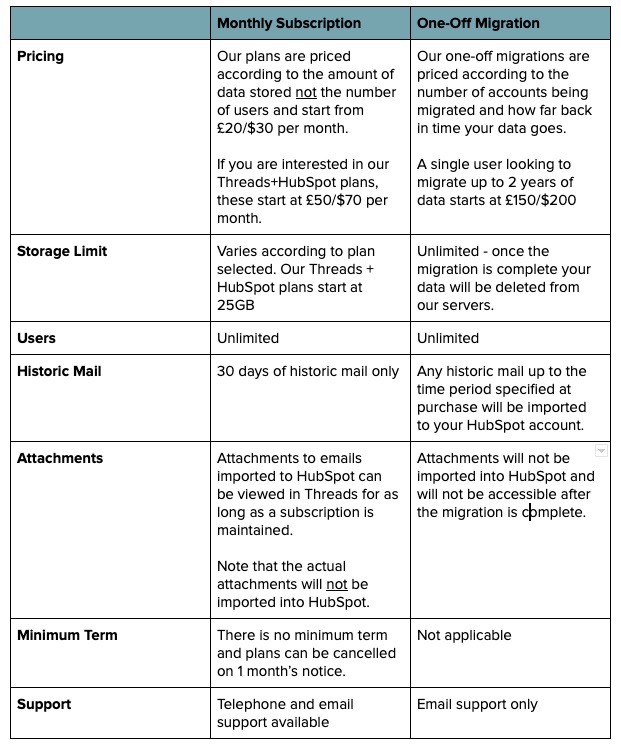 Read more about our pricing plans here
Threads Plan Add-Ons
In addition to our monthly plans we also offer optional add on services such as our call recording and transcription services. These are ideal if your business engages with your customers over the telephone as well as email. By using Threads, you can see all your communications in one place. And you can search them too!
Click Here to try Threads free for 14 days