Last month we announced that Threads had officially joined HubSpot as a Connect Beta Integrator to help new and existing HubSpot users import their communications directly into the familiar HubSpot platform ensuring their deals and contacts are always up to date.
So what does the Threads + HubSpot integration do and how can it help make your team more productive?
Businesses are constantly engaging with their customers and suppliers in a number of different ways. This might be an email, a phone call, a tweet, an SMS or even a webinar. And these communications are often taking place with several different people from within either party. However, most of these communications are never recorded or shared making it difficult to try and find what has been said, to whom and when.
And whilst HubSpot's simple and intuitive (and did we mention, free) CRM is designed to solve this problem, according to HubSpot's latest report on the State of Inbound, reps are still spending to much time on data entry instead of prospecting or selling.
This is where Threads and HubSpot integration can help.
Manual Tasks. Automated
The integration automatically syncs your digital communications directly into HubSpot so you can be confident that you are always reviewing the most up to date and complete information.
Here are just some of the day to day manual tasks that the Threads + HubSpot integration can automate:
Logging of emails both sent and received with your existing deals and contacts

Importing historic email data to your HubSpot account so that you can start harnessing the value of HubSpot from day 1.

For VoIP phone users, logging of telephone calls along with a recording of the call and a copy of the transcription

Allowing users to view and download any attachments to emails even if they were not a party to the original email
But how does this actually benefit HubSpot users?
Here are just some of the ways that the Threads + HubSpot integration are making business' lives easier.
Threads Reduces Manual Data Entry And Improves HubSpot Adoption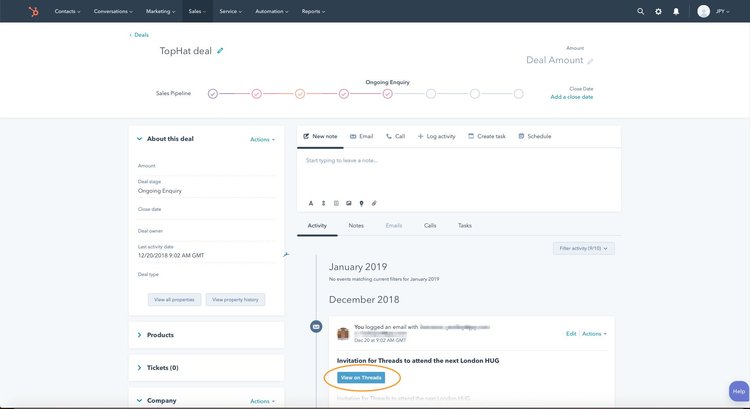 Users often cite data entry as one of the main pain points when they discuss the challenges of adopting a new CRM. Not only is the manual updating of information time consuming, but it is also subject to human error. Communications may not be logged accurately and this can mean that you either have an incorrect or incomplete overview of your communications and customer relations.
Threads eradicates this risk by automatically importing all of your digital communications (including emails and phone calls) so that you can be confident that you are always seeing the complete picture.
Threads Enables Users to Search Phone Calls Like Emails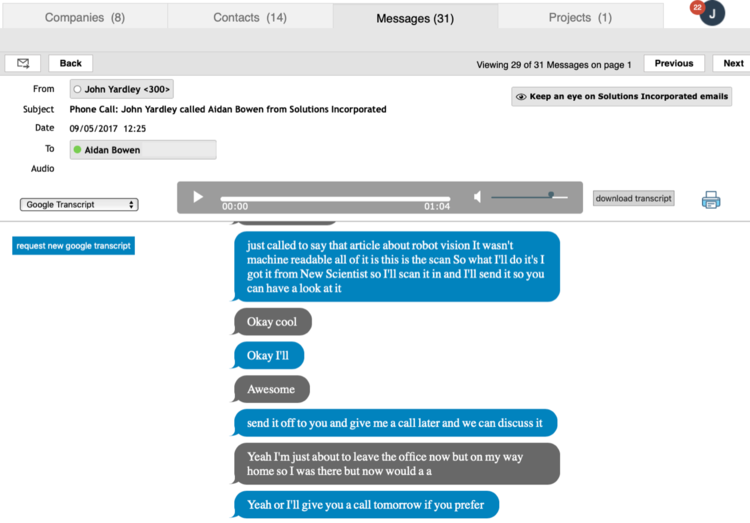 Even in the modern age of SMS and chat bots, most businesses still cite the telephone as an important means of keeping in touch with their customers. For complicated briefs or tricky support issues sometimes an email or a tweet just isn't enough. But remembering to log calls is a task in itself.
The logging of the call and any additional information relies solely on the memory of the participant to the call or on the quality of any frantically scribbled notes. And for businesses that have long lead nurturing times, it can be difficult if not impossible to then try and locate that call weeks or months down the line.
By enabling HubSpot users to search their calls as they would their emails, Threads provides businesses with the tools to stay on top of their data and find information that would otherwise be lost or forgotten.
Threads Makes Migration to HubSpot A Breeze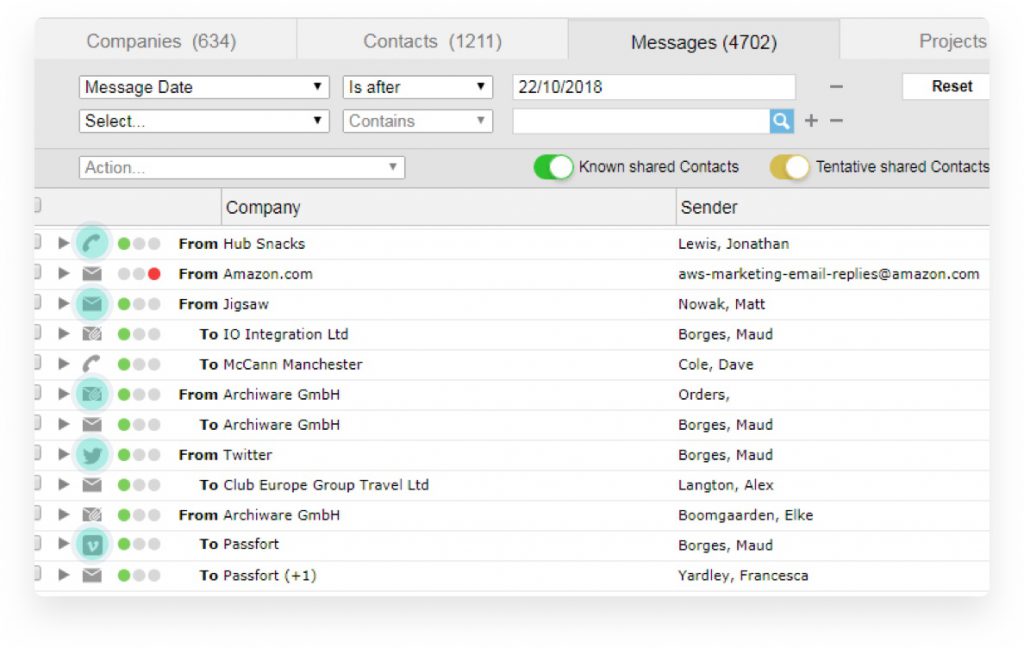 Migrating historic emails can be a significant challenge and even a barrier to entry when attempting to switch CRMs. When connected Threads can scan your whole teams inbox (including any team members who may have already left the business) to find any emails associated with your HubSpot contacts. This saves time (and money) employing expensive data migration specialists or having to manually forward emails to the HubSpot platform.
Tell us how you use Threads + HubSpot
These are just some of the immediate benefits of using the Threads + HubSpot integration. We'd love to know how else you are using Threads to help you sort through the mountain of digital communications with your customers.