In today's world, keeping track of your emails is a must. Nonetheless, managing multiple email account can grow tedious, as you're constantly switching back and forth. For this reason, knowing how to merge email accounts is valuable knowledge.
In short, knowing how to merge email accounts can ease the search process for vital pieces of information. In a moment's notice, find information from previous months without filtering through thousands—or more—emails. All in all, merged inboxes expedite the information gathering process, and reduce confusion and wasted time.
Don't just take out word for it! Continue reading to learn more about merged inboxes and how to correctly merge accounts with Threads.
How to Merge Email Accounts With Threads
Why Does a Merged Inbox Matter?
First, you are likely wondering how using a shared inbox will help your team's productivity. Or, how impactful can a merged inbox be?
To exemplify the importance of merged inboxes, consider the following situation.
Consider for a moment how your company communicates—internally or externally—with clients. Communication can be through email, telephone calls, or other communication platforms. Nevertheless, how do you handle finding that information when you need it?
Then, imagine an employee with an urgent call is on vacation, can you access the call's information easily? Or, does it require several hours of digging to answer a client's question?
In this situation, you must rely on coworkers to relay the needed information to solve a problem. The information is not readily available, stored improperly, and often incomplete. Additionally, not only are you reliant on others but appear unprofessional to clients.
Merging inboxes with Threads increases email transparency and employee productivity. In addition, merged inboxes encourage teamwork and collaboration.
Threads provide a unique solution to your communication methods without forcing you to change how you work.
What Features Does Threads Provide?
Threads provide a plethora of features to give you the ease of access to all merged inboxes. Continue reading to learn about all of the features that a shared inbox user can expect with Threads.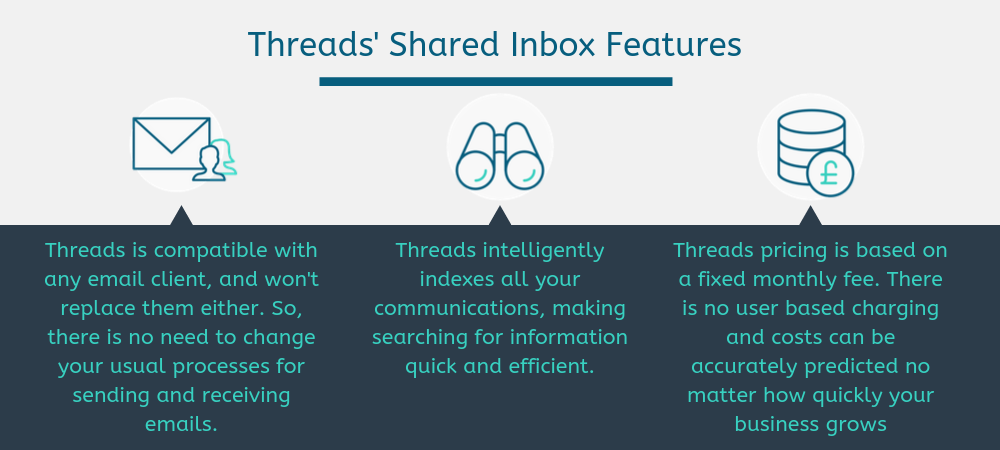 Email Client Compatibility
No matter what email client you prefer, Threads is compatible with it. Threads retrieve your emails from your email client's parent server and store them into one location.
This way, you can quickly access any exchanged email between your company and a client. Additionally, there are unique privacy settings included with Threads, so you can choose what emails to exclude if necessary.
Intelligent Search Capability
After gathering your emails, Threads automatically groups them into smart folders. Smart folders are created for specific clients, and Threads automatically place relevant information into each folder.
Additionally, Threads hides unsolicited mail. Once a connection is made with pre-existing information, it is organised accordingly. Therefore, there is no chance of an important email being deleted mistakenly as spam.
Storage Based Pricing
When it comes to cost, Threads pricing is based on a fixed monthly fee. In short, Threads does not charge on a user basis and does not limit how many users can access your data.
Instead, Threads pricing depends on how much storage you require. For example, 5 GB is £20, or US$30, and 25 GB is £50, or US$70. For a bespoke quote, feel free to contact us.
Use Your Data Efficiently
Threads put the power of utilizing your company's data into your hands with an open, effortless organisation system. Other methods, such as manually forwarding emails one by one, is tedious and messy.
With Threads, the time that you'd spend sorting your company's email archive can instead be spent on furthering the growth of your company.
For more information on how Threads can help your company streamline their communication and boost productivity, contact us to get started.