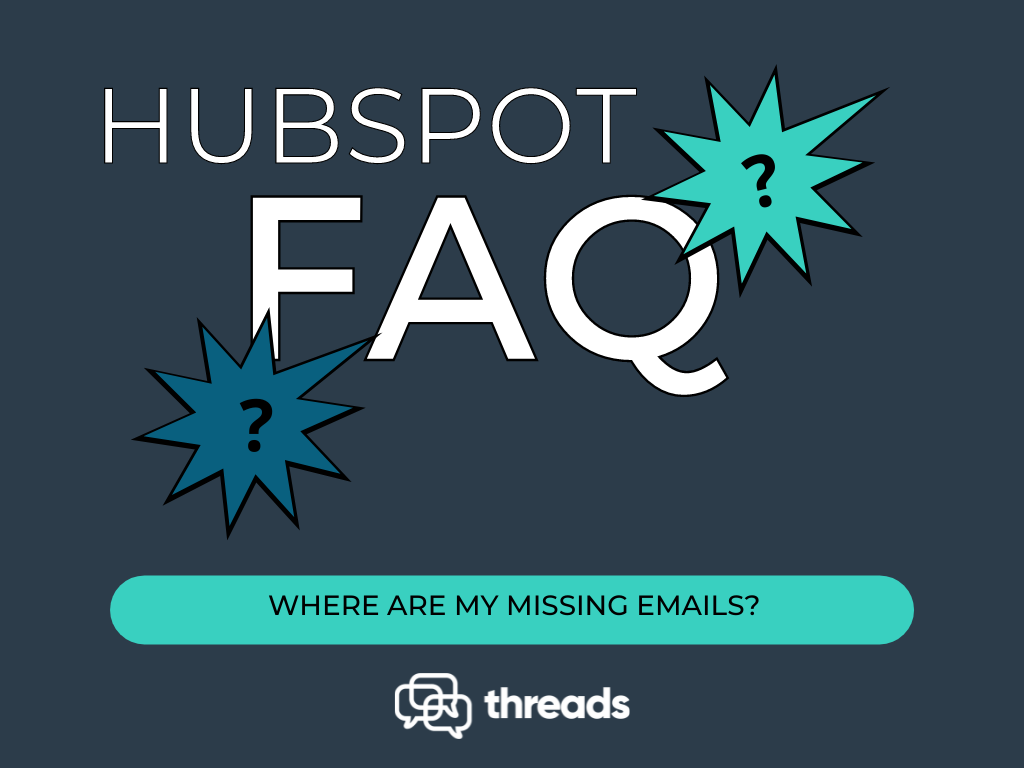 Q: I recently signed up for Threads one-off migration but I am missing emails in my HubSpot account. Help!
A: The Threads + Hubspot integration works by ingesting emails directly from your email client and then pushing emails into the HubSpot CRM so that they are associated with your Deals and Contacts. Once synced this process will happen automatically but occasionally you may find you a missing email. 
This might be down to one of the following reasons:
The missing email is outside the ingestion date range
Our free trial instance enables users to sync the last 30 days of historic email. It will also ingest any new emails for the duration of your trial.  If you want to continue ingesting your emails or want to import emails dated prior to your trial date then you will need to sign up for a paid plan. 
The contact does not exist in HubSpot
Threads will only push emails into HubSpot where there is a pre-existing contact. This means that you must first create a contact record or import your contacts into HubSpot. Threads will not automatically create contacts in HubSpot. Find out why here. 
Threads will also work retrospectively. This means that if you add a contact after you start your Threads subscription, Threads will automatically pick up any historic emails since the date you started your Threads subscription (or earlier if you have purchased a historic migration). 
The contact has more than one email address
As described above, Threads must identify a corresponding email address in HubSpot in order to recognise where to associate the email. Where a contact has more than one email address (or alias), this will need to be associated with the HubSpot contact in order for Threads to associate the email with it.
Your email account is not connecting with Threads
If Threads is unable to access your emails from your email account then it follows that we can't push those emails into Threads. You can double check which email accounts you have linked to Threads using the Threads Manager. 
Sometimes your email provider or IT administrator can block third party apps.  In order for Threads to work you will need to enable access. The procedure for doing this will depend which email client you are using. 
Remember that if you change the password for your email account then you will also need to update your password in Threads. 
Threads does not capture internal emails
By design, Threads does not capture internal team emails. This means emails that are exchanged between two parties with the same domain are not pushed into HubSpot. For example, an email between jane@threads.cloud and john@threads.cloud would not be captured.
Missing emails must be in 'active' folders
Threads will only ingest emails from your 'active' folders such as your inbox and sent items. This means that by default, Threads will not access emails that are in your archived or draft folders. Missing email must be in an active folder otherwise Threads cannot access it and push it into HubSpot.
Patience is a virtue!
Threads patented ingestion is designed to continually traverse each folder in your email account and identifies when new mails are sent and received. This can take time and will take longer if you have an particularly complicated folder structure. 
Still have missing emails?
If you are still missing emails in your HubSpot account, then please send drop us a line at support@threads.cloud so that we can investigate further.